For many of us, we live with a lot of misconceptions about the role of a pharmacist. One of the most common misconceptions is the idea that a pharmacist's role is only to count the number of pills being being ordered. Indeed, we've never been so wrong.
A Pharmacist's Role
It's unfortunate that many people treat pharmacists only as mere vendors of medications when in fact, pharmacists know just as much as our doctors do when it comes to prescribed medications, their interactions and their effects.
Although pharmacists cannot diagnose medical conditions, they are qualified to answer questions related to medications. Pharmacists may also recommend different drugs as alternatives and they are also capable of discussing the different side effects that your prescribed drug may have bring.
In other words, when it comes to drugs and medications, you can safely ask your pharmacist as they will have the answers to many or all of your questions as long as it is covered by the scope of their expertise.
Talking to a Pharmacist
Today, many pharmacies have an available private room or a private area wherein patients and pharmacists may have a chat over medication inquiries. If not, you may also call up the pharmacy and talk to a pharmacist about your concerns over the phone.
With digital age, there are also many available online medical stores selling medicine and medical materials; some of these online medical stores even offer a chatting option between the patient and a pharmacist as well in order to address concerns and questions even if they cannot talk to each other face to face.
Unfortunately, even with this knowledge, many people are still quite unsure as to what questions they should or may ask their pharmacists. That being said, here is a list of a couple of inquiries you may address to your pharmacists.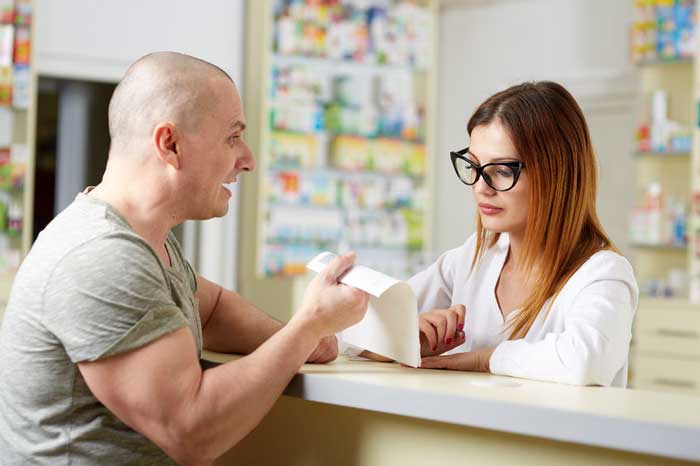 Questions to ask a Pharmacist
What does the drug/medicine do?

What exactly is the name of the medicine?

Is there a generic brand available for this medicine or other alternative drugs?

How should I take the medicine?

What should I do if I miss a dosage?

How long should I be taking the medicine?

Are their activities, drinks or food that I must avoid when I take this medicine?

What are the possible side effects of the medicine?

What should I do if some side effects occur?

Where can I find more information about the medicine?

How can I safely store this medicine?

Are their other special instructions for this medicine?
Other than bringing up the questions listed above, a pharmacist may also do a medication review, once a year,  when requested by a patient/customer. Usually, people who are taking many different types of drugs are the ones in need for this review. During a medication review, you may take your medicines with you and show it to the pharmacist. Here, they will walk you through the medicines, one by one, in order to guide you as to how you should take them. Online pharmacies are also used extensively by dentists throughout the US including those that work in Texas like ATX Dental Specialists. 
Importance of a Pharmacist
The pharmacist, therefore, is definitely important to the life of a patient or a pharmacy customer. They know more about the drugs than anyone else because that is their field of expertise. Moreover, we should trust our pharmacists and we should never be too shy to ask them questions about medicines or to ask help from them; their job, after all, is to help us.